The Web of Empire: English Cosmopolitans in an Age of Expansion, 1560-1660: B... 9780195335545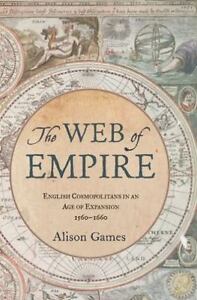 About this product
Synopsis
How did England go from a position of inferiority to the powerful Spanish empire to achieve global pre-eminence? In this important second book, Alison Games, a colonial American historian, explores the period from 1560 to 1660, when England challenged dominion over the American continents, established new long-distance trade routes in the eastern Mediterranean and the East Indies, and emerged in the 17th century as an empire to reckon with. Games discusses such topics as the men and women who built the colonial enterprise, the political and fiscal factors that made such growth possible, and domestic politics that fueled commercial expansion. Her cast of characters includes soldiers and diplomats, merchants and mariners, ministers and colonists, governors and tourists, revealing the surprising breath of foreign experiences ordinary English people had in this period. This book is also unusual in stretching outside Europe to include Africa, Asia, and the Middle East. A comparative imperial study and expansive world history, this book makes a lasting argument about the formative years of the English empire.
Product Identifiers
ISBN-10
0195335546
ISBN-13
9780195335545
eBay Product ID (ePID)
64180802
Key Details
Author
Alison Games
Number Of Pages
416 pages
Format
Hardcover
Publication Date
2008-07-15
Language
English
Publisher
Oxford University Press, Incorporated
Publication Year
2008
Additional Details
Copyright Date
2008
Illustrated
Yes
Dimensions
Weight
24.2 Oz
Height
1 In.
Width
6.5 In.
Length
9.6 In.
Target Audience
Group
Trade
Classification Method
LCCN
2007-041087
LC Classification Number
DA16.G36 2008
Dewey Decimal
909/.0977124206
Dewey Edition
22
Table Of Content
Introduction1. Before the Grand Tour: The Domestication of Travel2. The Mediterranean Origins of the British Empire3. English Overseas Merchants in an Expanding World of Trade, 1590-16504. Virginia, 1607-16225. All the King's Men: Governors, Consuls, and Ambassadors, 1590-16506. Madagascar, 1635-16507. The Cosmopolitan Clergy, 1620-16608. Ireland, 1649-1660Conclusion
Reviews
"Alison Games's fascinating and deeply researched new book makes clear that the English were cosmopolitan globetrotters before they became xenophobic imperialists. By presenting English colonization of the Americas as only one part, and not even a very representative part, of a world in motion, The Web of Empire is engagingly--and convincingly--subversive."--Joyce E. Chaplin, Harvard University "Alison Games's newest book is a work of great range and depth that draws on a considerable breadth and variety of sources.... This comprehensive study is meticulously researched and points to a new direction for considering English global activities in this era as well as for understanding the eventual development and growth of the British Empire."--Journal of British Studies "The Web of Empire: English Cosmopolitanism in an Age of Expansion offers a rather benign view of how global empire was built, with a dazzling array of explorers, travellers, merchants, clerics and even soldiers often more concerned to learn from exotic peoples than to impose on them."--The Independent "Like Games's earlier effort, The Web of Empire conveys the result of prodigious research; anyone who has attempted archival research of English activity in far-flung locations in this early period will be impressed by Games's energy and tenacity."--New England Quarterly "An admirable book. It casts light in places where shadows lurked; thereby it brightens a reader's view of the beginnings of the English empire. It proceeds from its author's diligent scouring of sources, her eye for apt detail, her gifts of style, and her careful posing of argument, all of which render this book well worth an investment of one's time."--Warren M. Billings, Virginia Magazine of History and Biography "This is early, all encompassing, and wide-ranging British imperial history at its finest."--R.D. Long, CHOICE Wonderful...it is pleasing to encounter a book that focuses on well-wrought, well-researched stories. [Games'] provocative book should inspire future debate and stimulate additional scholarship on the extent to which human agency influenced early modern imperial expansion. a masterful analysis of the early and often-overlooked history of the British empire an interesting and well-researched book full of unique insights, engaging anecdotes, and interesting case studies. from start to finish, this is an argumentative book written in accessible prose, which is certain to generate debate, stimulate challenges, and consolidate the reputation of Alison Games as one of the most accomplished scholars writing today on England's North American World within the context of its more general expansion overseas.